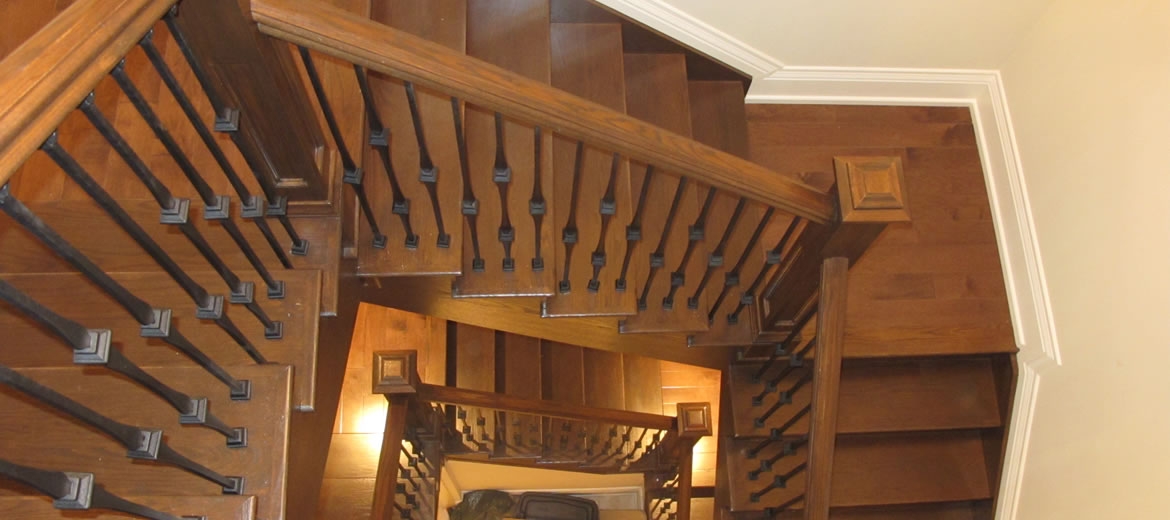 1. Do you do interior & exterior railings?
Yes we do. Our product line includes a variety of interior wooden handrails & wooden spindles, as well as wrought iron designs. We also carry exterior aluminum railing designs as well as a variety of galvonized ornamental designs.
2. Whats the difference in pricing between wood and iron Spindles?
The pricing would vary depending on the choices you make. Wooden handrail designs range from about $40/ft to $100/ft, and the iron designs range from $55/ft to $120/ft. We will help you work with your budget.
3. How long will the job take to be installed?
Well, from the time the order is placed, we usually allow 2 weeks for manufacturing & installation.
4. Do you offer a stained finish on the stairs and railings?
We find that when it comes to specializing in a certain aspect of your project, the trades you find should be great at what they do. Therefore, we provide you with the best product possible and leave the finishing to a professional. A great carpenter cannot be a great painter. So we have a professional painter that specializes in the finishing of your staircase & railings.
5. Are the newel posts made of solid wood or are they hollow in the middle?
All our interior wooden newel posts are made of the greatest quality lumber available in the market. This allows are installation to be sturdy, and long lasting.
6. Do you use a metal bar system for your installation?
The metal bar system is classified as sub-division quality work. That system is only used for mass production. We treat our projects as custom, so we offer solid wooden handrails which eliminates the bar and eliminates you from seeing the screws that would be used for that system, leaving a nice, clean stained finish.
7. What system is stronger, the metal bar design or the solid wood designs?
There is no difference in strength between both. the only difference is that our system looks better since there are no screw heads visible.
8. Is your work guaranteed and is it up to date with the new o.b.c?
We provide a 1 year warranty on all parts and labour. All our workers are covered by w.s.i.b. we also have adequate liability insurance and property damage insurance.
9. Do you clean up after you have completed your work?
We most definitely clean up after we are done. we will walk through the house and clean whatever mess was left. Upon leaving the premises, we will ask you to inspect the work and we will not leave the job until the homeowner is totally satisfied.
10. Do you remove and dispose of existing stairs & railings after you install the new ones?
Unfortunately, we do not dispose of the big stuff like your old staircase or railing components. If there is not a garbage bin on site, then we recommend you calling your municipality and asking them what your options are.